The practice of animating objects with light and visuals has been for long presented as a magical act of a thousand names. Videomapping, projection mapping, 3d mapping, digital signage, laser projections… What is the nature of projection mapping, seen by art theory? Design, film, video, video art, performance or art or what?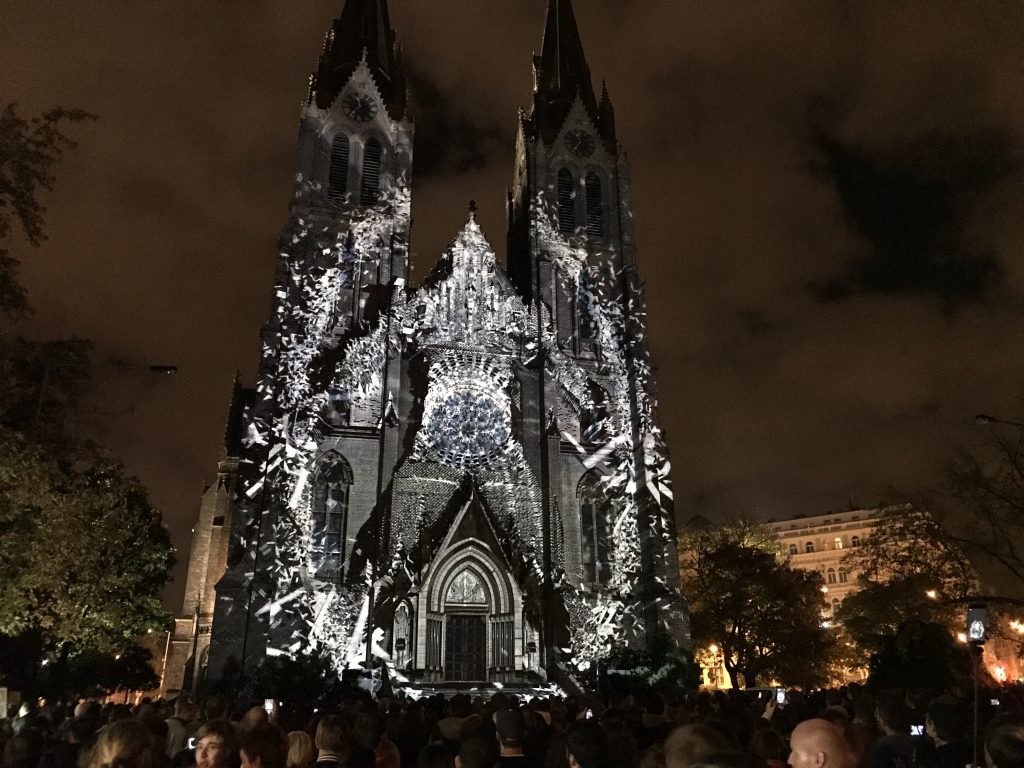 Snapshot from a projection on the church of Saint Ludmila in Prague during the Signal festival, the best known yearly video mapping event in the Czech republic.
Projection mapping is mostly comprehended as a form of entertainment. A short-lasting sensation. It is as if an object; a building, a sculpture, etc. changed its behavior towards its spectators, going from being passive to being uncontrollably active, also taking into account that combination of animation and sound usually really creates the illusion that there is something moving or happening.
This and the spectacularity of it are usually the only aspects, that theoreticians are willing to see. PM is sometimes used as a new form of fireworks, but its whole potential should not be really overlooked as something, that does not imply anything else.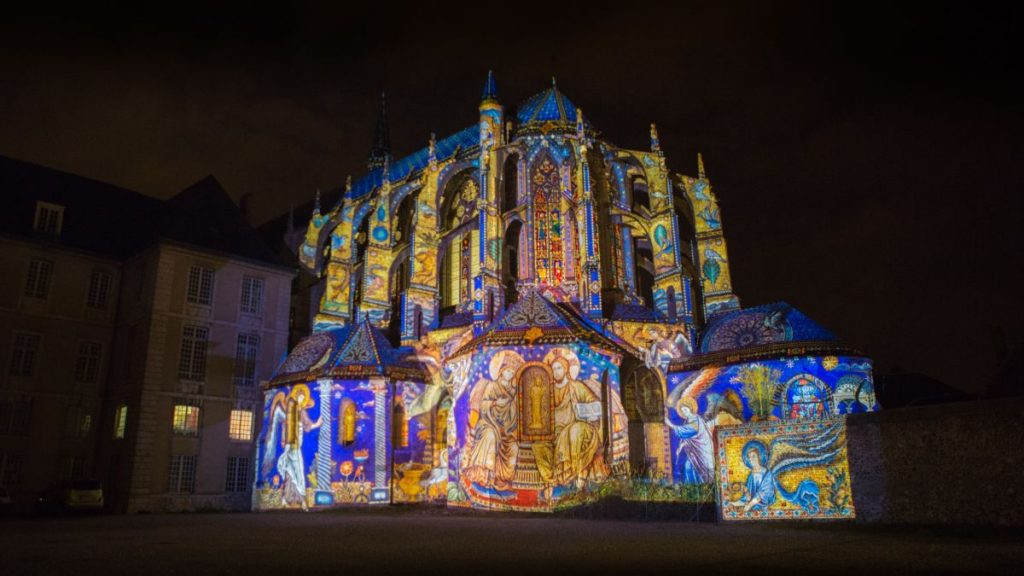 Projection mapping (or in french sometimes called Son et lumière) on the cathedral in Chartres, France, one of the biggest and long-lasting spectacles. A snapshot with medieval book illuminations.
In typical projection mapping festivals, celebrations or marketing events this effect is often used to evoke cultural codes; a historical event, popularly known to have happened at the place, is evoked through hints, and the public is entertained by guessing and reliving the sensation or the re-evoked atmosphere (as they are used to from historical films or games, for example). This possibility gave roots to a lot of creativity and apart from intensification tourism, could show that facades of buildings have much more than just advertising space.
When presenting a historical event though, using projection can also simply lead to "digging into the history of the building" and not really creatively taking the forms of architecture in concern. Which means this intensified reliving of history can end up as a mere document projected onto the building, used as a screen.
Projection mapping on the prague town hall, a snapshot hinting to the hussite wars, that started there in 1419, by throwing catholic authorities from the window of the town hall. By The Macula.
Often projection mapping is simply called video mapping, which is doing harm to both video art and PM. PM has a long process of elaboration, which begins not by preparing the graphic content, but by preparing the aim of the projection by taking its detailed reproduction. (Detailed picture, scanning the building or making a 3d model, always making a mask,etc…). Now the technology is advanced, but around 2000 it meant connecting a plethora of different things in an almost DIY way in order to project desired visual effects. Treating that as a video is simply not right.
Video is a term for the technology, that already comprised recording, displaying and copying. Its popularity exploded also between the artists, for whom it was a strikingly easy tool to use. But they were treating video art as something unmediated, raw and as a chance to record personal moments (something not seen on film). Also, the whole system of recording and displaying at the same time was very provoking. Bruce Naumann used the system to confuse the perception of shape, as he mounted the recorder above the entrance of a corridor and the display at the end, and the visitor saw himself moving further, while he felt he is "getting closer".
Projection mapping sometimes makes a similar point, it is as if the camera just happened to be there during a historical event and at the moment of the projection it just replayed what it saw. But projection mapping has a much wider potential, like decoding hidden visual aspects of things. Just recently the Žižkov TV tower was transformed into a skyrocket, by which its architecture was directly inspired. This is when the notion of the video is really not enough. It is like testing the relationship of two images: the real architecture, the object, and the ideology. It is not that much about covering one thing with the other, but kind of brushing them off each other.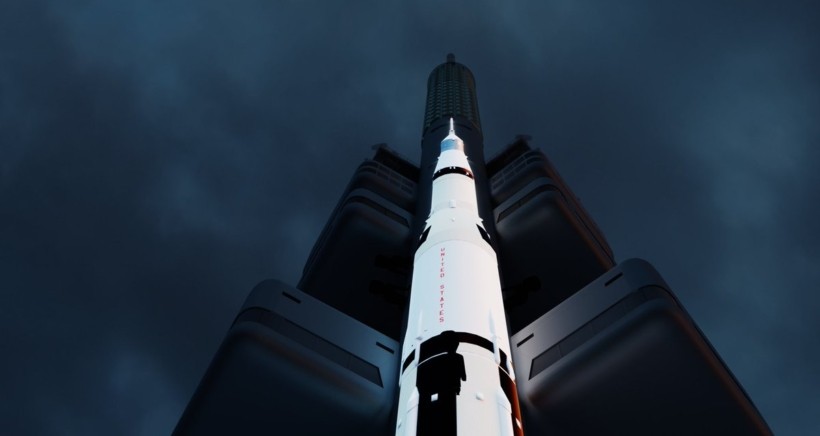 So now we have a way to differentiate between a video and a projection mapping. The obvious observation, that one seems to be usually just footage and the other animation must be left open to the creative process. (After all, the footage is just a form of animation.) When we really get to the point, a projected image does not always have to be a moving image at all. The magic of projection mapping is that in its base it is really created solely through a projected image. It is obliged to do nothing more and nothing less than leaving its source and land on something else. Projection mapping gets often just described in its synthetic effect of commission, event, and reception, which hardly creates a good theory base.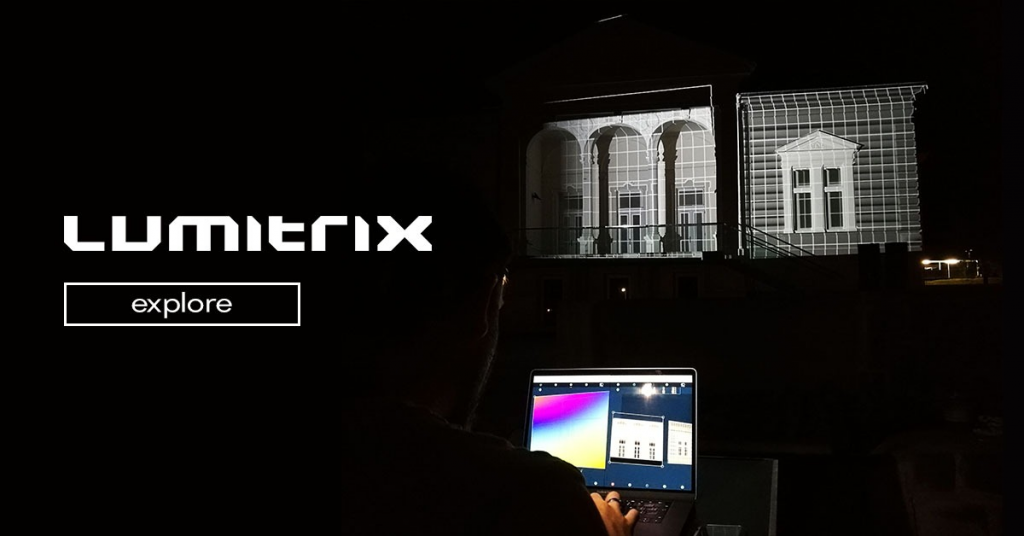 And this is exactly the reason to start this blog. The whole mapping and projected image milieu are lacking a wider thought, a think-tank reaching to many different connected topics, that can enrich the way we create and perceive. The more intense this debate should be, as PM strives to be a public event. Thanks to new technology stepping into art, there is a growing gap between what art theory regards as worthy and what it regards as unimportant, while the first one usually comprises absolutely unsensual art for specialists and the other is the one that really reaches out to hundreds of thousands of people thanks to its spectacularity. Is there a way to include both sides as great forms of contemporary expression? Is there a way for them to benefit from each other? Now that we have projection mapping introduced as a form to present a projected image, is its design, art, performance or what? Are these categories even sufficient? We will try to answer, and more importantly, pose more and more of these questions.